---
Frontends
Company is packaged with several frontends and provides a predefined set of enabled frontends. A list of the enabled frontends can be changed by configuring the user option company-frontends.
Each frontend is simply a function that receives a command and acts accordingly to it: outputs candidates, hides its output, refreshes displayed data, and so on.
All of the Company frontends can be categorized by the type of the output into the three groups: tooltip-, preview-, and echo- frontends. We overview these groups in the first sections of this chapter. The sections that follow are dedicated to the ways the displayed candidates can be searched, filtered, and quick-accessed.
---
Tooltip Frontends
This group of frontends displays completion candidates in an overlayed tooltip (aka pop-up). Company provides three tooltip frontends, listed below.
User Options
To change the tooltip frontends configuration, adjust the following user options.
Candidates Icons
An icon is an image or a text that represents a candidate's kind; it is displayed in front of a candidate. The term kind here stands for a high-level category a candidate fits into. (Such as 'array', 'function', 'file', 'string', 'color', etc. For an extended list of the possible kinds, see the user option company-text-icons-mapping or the variable company-vscode-icons-mapping.)
The following user options influence appearance of the text and dot icons.
Faces
Out-of-the-box Company defines and configures distinguished faces (see (emacs)Faces) for light and dark themes. Moreover, some of the built-in and third-party themes fine-tune Company to fit their palettes. That is why there's often no real need to make such adjustments on a user side. However, this chapter presents some hints on where to start customizing Company interface.
Namely, the look of a tooltip is controlled by the company-tooltip* named faces.
The following example hints how a user may approach tooltip faces customization:
(custom-set-faces
 '(company-tooltip
   ((t (:background "ivory" :foreground "MistyRose3"))))
 '(company-tooltip-selection
   ((t (:background "LemonChiffon1" :foreground "MistyRose4"))))
 '(company-tooltip-common ((t (:weight bold :foreground "pink1"))))
 '(company-scrollbar-fg ((t (:background "ivory3"))))
 '(company-scrollbar-bg ((t (:background "ivory2"))))
 '(company-tooltip-annotation ((t (:foreground "MistyRose2")))))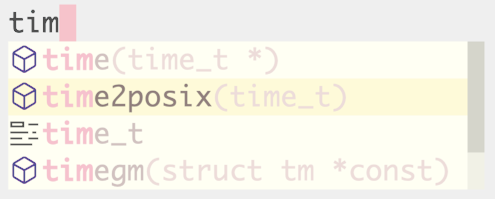 ---
Preview Frontends
Frontends in this group output a completion candidate or a common part of the candidates temporarily inline, as if a word had already been completed 4.
Function:

company-preview-if-just-one-frontend ¶

This is one of the frontends enabled by default. This frontend outputs a preview if only one completion candidate is available; it is a good suit to be combined with company-pseudo-tooltip-unless-just-one-frontend, Tooltip Frontends.
Function:

company-preview-frontend ¶

This frontend outputs the first of the available completion candidates inline for a preview.
Function:

company-preview-common-frontend ¶

As the name of this frontend suggests, it outputs for a preview only a common part of the candidates.
The look of the preview is controlled by the following faces: company-preview, company-preview-common, and company-preview-search.


---
Echo Frontends
The frontends listed in this section display information in the Emacs's echo area, (emacs)Echo Area.
The last pair of the built-in frontends isn't that commonly used and not as full-featured as the previously reviewed tooltip- and preview- frontends, but still, feel free to play with them and have some fun!
To apply visual changes to the output of these frontends, configure the faces company-echo and company-echo-common.
---
Candidates Search
By default, when company-mode is in action, a key binding C-s starts looking for matches to additionally typed characters among the displayed candidates. When a search is initiated, an indicator 'Search: CHARACTERS' is shown in the Emacs's mode line.
To quit the search mode, hit C-g.
Search matches are distinguished by the company-tooltip-search and company-tooltip-search-selection faces.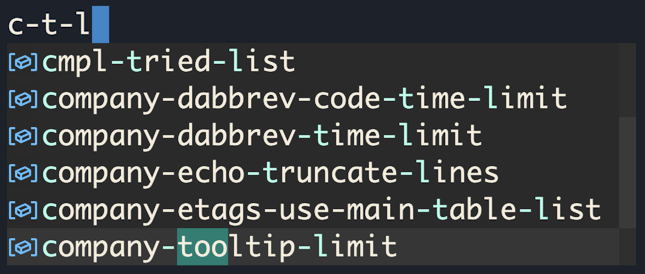 ---
Filter Candidates
Candidates filtering is started by typing the default key binding C-M-s. Filtering acts on a par with the search (see Candidates Search), indicating its activation by the text 'Filter: CHARACTERS' in the mode line and influencing the displayed candidates. The difference is that the filtering, as its name suggests, keeps displaying only the matching candidates (in addition to distinguishing the matches with a face).
To quit the filtering, hit C-g. To toggle between search and filter states, use key binding C-o.

---
Quick Access a Candidate
Company provides a way to choose a candidate for completion without having to navigate to that candidate: by hitting one of the quick-access keys. By default, quick-access key bindings utilize a modifier META and one of the digits, such that pressing M-1 completes with the first candidate on the list and M-0 with the tenth candidate.
If company-show-quick-access is enabled, tooltip- and echo- frontends show quick-access hints.
(setq company-show-quick-access 'left)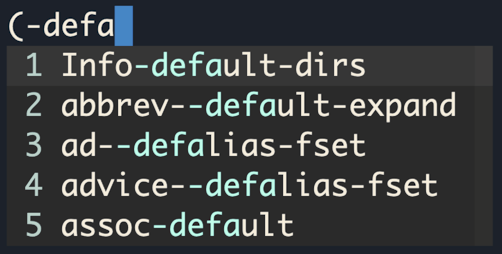 To customize the key bindings, either do it via Customization Interface (see Customization Interface) or use the following approach:
(custom-set-variables
 '(company-quick-access-keys '("a" "o" "e" "u" "i"))
 '(company-quick-access-modifier 'super))

A modifier should be one of meta, super, hyper, control.
The following example applies a bit of customization and demonstrates how to change quick-access hints faces.
(setq company-show-quick-access t)

(custom-set-faces
 '(company-tooltip-quick-access ((t (:foreground "pink1"))))
 '(company-tooltip-quick-access-selection
   ((t (:foreground "pink1" :slant italic)))))